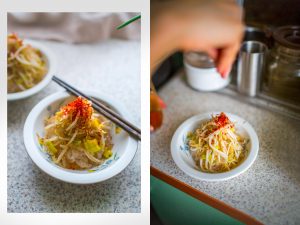 Basic rule:
Embrace Bitter, Astringent, Spicy, Light, dry, warm
Avoid Sweet, Sour, Salt, Oily & heavy.
INGREDIENTS for 2 portions:
–  2 small, or 1 large leek
–  2 hands of soya sprouts
–  A tablespoon of grated ginger
–  4 cloves of garlic
–  100g of bean-vermicelli
  
SEASONING:
   –  Sesame oil
   –  Chili powder / fresh cut chili
–  black pepper
PREPARATION :
Cook the bean-vermicelli in boiled water for 3-7 minutes (according to the type). In the pan, fry the ginger and garlic garnish for about a minute, and then add the sprouts and fry for another 2 minutes. Add the cooked bean-vermicelli to the pan, and stir it up with sesame oil. Serve with black pepper and chili.
Bon Appetit!